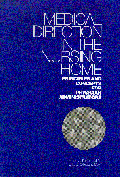 James J. Pattee, M.D.
Orlo J. Otteson, M.A.

Table of Contents

Reviews

The system of health care in America is changing rapidly. Today's nursing home plays a critical role in addressing long-term health care issues.

In 400 concisely written pages, this book provides information that will help medical directors, board of directors, administrators, directors of nursing, and attending physicians, define and clarify the medical director's role in the long-term care setting.